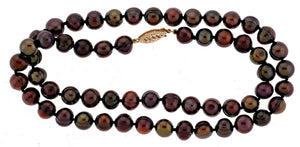 18" Chocolate Ring Pearl Shaped Necklace (SKU: 190815)
18" Chocolate Pearl Necklace (SKU: 190815). This chocolate pearl strand necklace is made up of 7-8mm chocolate freshwater pearls and has a 14 karat yellow gold fish hook pearl clasp.

Freshwater pearls come from mussels that are in lakes, rivers and ponds. As opposed to Akoya pearls, Freshwater pearls are rarely found to be perfectly round in their shape. However, these pearls can come in a variety of shapes, sizes and colors more than any other pearl and still retain a nice luster.

---
We Also Recommend
---